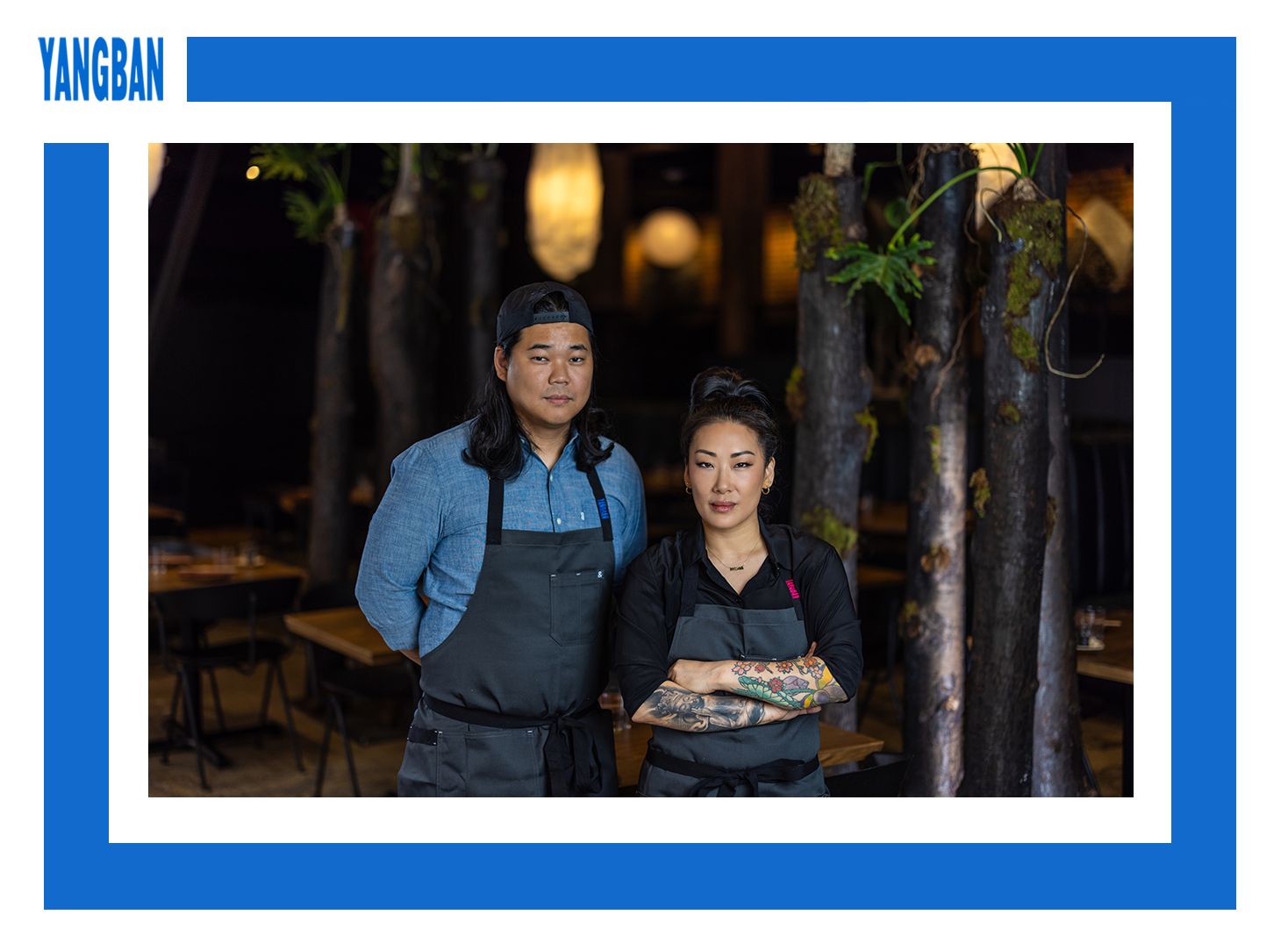 Yangban, the genre-defying Korean American culinary 'conversation', which opened in Los Angeles' Arts District, re-opens after a transformative interior overhaul of the space, revealing an evolution of the highly acclaimed restaurant. Now featuring a full-service dining room and updated food and beverage programs, the concept remains at its core a Modern-Korean American restaurant as told through the lens of husband-and-wife chefs Katianna and John Hong. 
After training through some of the finest Michelin starred restaurants in the country, their food is influenced by their passion for seasonal California ingredients and executed with techniques refined through their journey as Korean American chefs.
Born in Korea and raised in upstate New York, Katianna spent much of her childhood training in competitive gymnastics, developing a drive and discipline at an early age. After high school, Katianna uncovered her passion for the culinary arts and went on to study at the Culinary Institute of America Hyde Park and the UNLV School of Hospitality. Following graduation, Katianna furthered her education under the acclaimed chef Josiah Citrin at the Michelin two-starred Melisse in Santa Monica, California. Amid shifts at Melisse, Katianna met her culinary collaborator and future husband, John. The two relocated to Napa Valley in 2011, where Katianna began working as a line cook at chef Christopher Kostow's lauded The Restaurant at Meadowood. In 2014, she was named the restaurant's first-ever chef de cuisine, simultaneously becoming the only female chef de cuisine at a Michelin three-star restaurant in the United States.
While working alongside Kostow at Meadowood, San Francisco Magazine named her Rising Star Chef for pushing the boundaries of fine dining with her creativity and nuanced approach. Katianna went on to open Kostow's second restaurant in the heart of Napa, The Charter Oak. At Charter Oak, Katianna and team earned a nomination for the James Beard Award for Best New Restaurant, as well as a spot on Bon Appétit's Top 50 Best New Restaurants List for the celebratory, family-style dining experience featuring seasonal and inventive California fare. In 2018, Katianna was honored as one of Food & Wine's Best New Chefs.
Following the birth of their daughter, Alessia, Katianna and John relocated to Southern California in 2019 to pursue their dream of opening their first solo restaurant project together. At Yangban, Katianna & John offer a multi-dimensional, autobiographical experience that showcases their respective backgrounds and upbringings.
Growing up in Highland Park, Illinois as a second generation Korean-American, John's childhood and family life centered around a deep love of food and celebration. This early respect for the art of hospitality, as well as his love of cooking subsequently inspired his culinary path. While attending The Cooking and Hospitality Institute of Chicago, John worked as an extern for chef Grant Achatz at the world-renowned, three Michelin-starred Alinea. Upon graduation, John joined the team as a Chef de Partie, an experience that continued to inform his early career in fine dining. Several years later, John headed west, assuming the position of Chef de Partie at Josiah Citrin's Michelin-starred Melisse in Santa Monica, California. While there, John met his culinary collaborator and future wife, Katianna. The pair moved north to join the team at chef Christopher Kostow's acclaimed The Restaurant at Meadowood in Napa Valley. Over nine years at Meadowood, John spent time on every station in the kitchen eventually becoming chef de cuisine where he maintained the restaurant's three Michelin stars for three years. In 2015, John was named a Maker of the Napa Valley by AFAR and, in 2016, he was named Asian Business Association's "Chef of the Year," a reflection of his passion for authentically modernizing the food of his childhood.